PREVIEW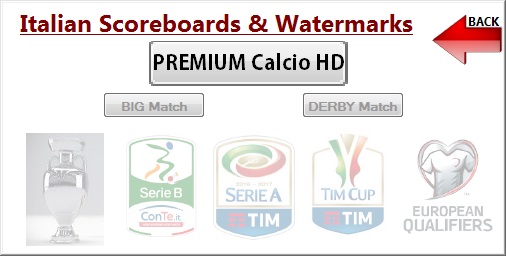 How it works
this tool wins on Scoreboards & Replays inside DpFileList.bin powered by Baris and COMPATIBLE with any PATCH
---
- ITALIAN 3 different broadcast scorebaords and watermarks ( SKY, MEDIASET PREMIUM and RAI ) + Extra Customized "BIG Match" & "DERBY Match" Replay Logos
- EXTRA: you can select BUNDESLIGA, EPL, LaLiga andLigue1 scoreboards
- CUSTOMIZED: you can use your own 4 customized scoreboards & replay logos
How to install it
If you are using Pes in fullscreen I advise you to USE Alt+Tab keys and select your prefer Scoreboard + Replay Logo during the gameplay with my "QT78 Sider tool"
---
 1.  IMPORTANT: UNZIP the file "QT78sider.7z" to your drive "c:\"
2. Copy the file "c:\QT78sider\sider.ini" to your "*\Pro Evolution Soccer 2017\" folder game or add the string (cpk.root="c:\QT78sider") inside your own "sider.ini" file
3. RUN "QT78sider.exe" (portable EXE file, you can copy it every drive) and select your prefer scoreboard and replay logo
4. RUN "sider.exe" by juce & nesa24
5. RUN "pes2017.exe"
ENJOY
CREDITs:
Sider by juce & nesa24
respect my work, please leave the source download's link. Thanks
ZIP PASSWORD: 3dstreaming.org
SUPPORT & HELP ENG forum | ITA forum
---
---
VIDEO GUIDE below